BUSINESS PLAN FOR Daycare
Day Care is not the easiest business to make money.
Most people who start a daycare are more interested in working with kids and not just making money.
However, as a moneymaker, I feel there is no reason you should not be financially rewarded, especially since you are the first influence in shaping the future of kids who come to your daycare.
I wrote this business plan for a client of mine who started a daycare. I wanted her to be financially rewarded for her love and dedication to kids.
If you own a daycare or are planning to start one, just follow the steps in this plan.
It will help you build strong daycare that will empower you to help kids not just in your neighborhood but worldwide.
At the same time, it will reward you financially.
I am a firm believer that you cannot keep helping the world if you are not enjoying that world yourself.
Therefore, I want you to also become financially successful along with your pursuit to help kids.
STEP 1: Choosing A Good Name
The very first step is to pick a good name for your daycare. Don't pick a name that could run into copyright claims.
It is tempting to us ea cute cartoon name like Nemo but that can land you in trouble fast.
This will be a bigger issue when you try to grow your business, run ads or start selling the franchise for your daycare.
I would highly recommend that you hire a naming company to help you with a good name.
Your brand name makes a big difference. If you have a marketable name it will help you grow fast, else you will probably go through a name change later.
STEP 2: Identifying Your Audience (Rich Or Poor)
The next step is to identify who you will be catering to. Do you want to start a daycare for low-income parents or rich parents?
You need to know this in advance because this will help you decide your daycare design, curriculum, marketing material, teacher dress code, and almost everything else revolving around your daycare.
I would recommend that you create a brand for elite and wealthy parents but accommodate mid and low-income families.
This strategy gives your daycare the best shot at growing fast. Everyone wants to be part of an elite institute.
I have a worksheet called 5X Customer Avatar. I make all my clients fill this.
When you fill this worksheet you will get an in-depth understanding of your clients and you will be able to create a daycare that appeals to them.
You can download it here: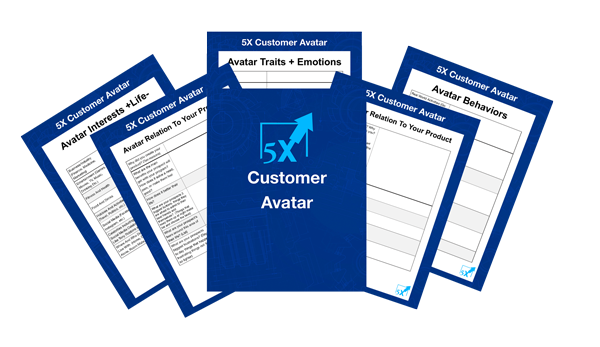 Step 3: Think Of Something Unique That No One Else Offers (USP)
This is going to be the most important step in creating your daycare.
In this step, you need to design your curriculum and marketing.
You need to identify what is unique about your daycare.
What is so special that no one else is offering and will make parents chose you over other daycares.
From my research, I find that when choosing daycare parents consider following the most:
a.) Early Child Development Course: They need to know that your day course can have their child with development.
That there is a natural progression to help the kid as they grow.
This is why you need to be creative and have a unique early child development program that no other daycare offers.
This is very easy to accomplish. It takes a little creativity to create something unique, helps kids and marketable.
If you are not sure where to start, look for some Early Child Development courses online.
This is what I did for my last client.
I looked for a few popular courses and read the reviews.
It helped me identify the topics that were popular and also weaknesses that parents were complaining about.
We took the strengths and made our version of it and added the things that were lacking from negative comments.
This helped us make a proven course because we know the majority of parents and instructors liked. We knew this from reading the reviews of popular courses.
Then we just gave this a new name and turned it into our own unique Early Child Development Course.
Which we then pitched to our clients and had no trouble convincing them to send their kids to our daycare.
You can also take some online courses and model after them to build your course.
Carecourses.com is one such course with great reviews: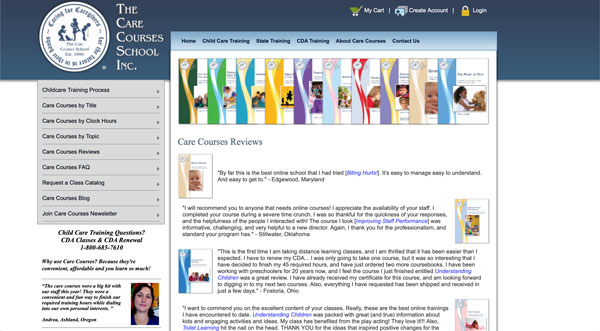 https://www.carecourses.com/PublicPages/Reviews.aspx
Class Central has another course with decent reviews: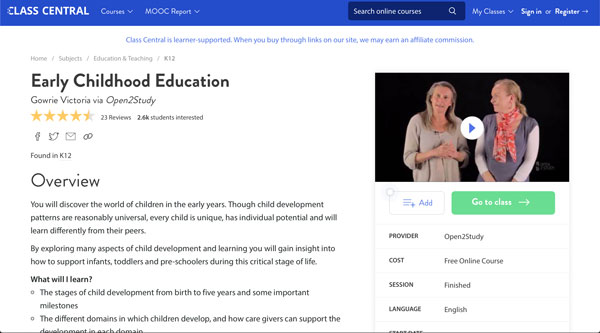 https://www.classcentral.com/course/open2study-early-childhood-education-1000
This course will be everything when it comes to making big money so spend as much time as you can here.
b.) Child Happiness: The next thing parents care is about their child's happiness.
They need to know before they register their kid and even after registration that their child is happy with you.
We will discuss this more in step 5.
c.) Status: Every parent wants to be proud of the quality of life they give to their children.
Your job is to build and maintain an elite reputation for your daycare.
It is not just another daycare but an elite daycare for a few selective families.
Instead of chasing parents to send their children you need to make them chase you.
In almost every high-end coaching business I ran, clients had to go through an hour-long interview before I accepted them into my program.
I had to be convinced that they were right for my program.
I was interviewing clients who would pay me between $3,500-$200,000.
This made them feel special and privileged to be accepted in my program.
They would tell everyone in their circle that they were accepted to train with me.
You need to do the same thing to build a strong brand.
No matter how desperate you are to fill your daycare do not chase or compromise.
Have a selective admissions process. Make parents and kids qualify for admissions.
It will make them feel special and privileged.
They will work along with you and tell everyone about your daycare because they feel proud to be accepted.
This will help you build a strong and elite brand in the long run.
We did this for a school in India.
We did a press release campaign before opening admissions.
The press campaign talked about how parents were waiting for 6-7 hours to collect admissions forms and that there were only a few admissions forms that will be handed out.
The result was that we had parents wait in line almost 12 hours before we started distributing the forms. They did not want to miss the opportunity.
Even though we were desperate to get admissions we now had parents lining up to get admissions.
Make sure to present yourself as an elite and selective daycare and you will have no problem filling your daycare.
You can also offer special services that stand you apart from other daycare. We will cover this in the next section
d.) Convenience: When possible try to add as many facilities as you can to spoil the parents.
This will go along the lines of being an elite school that provides special services for parents and will add to your income.
Your job is to make the parents depend on you.
You need to become a part of their life and you will have no shortage of people wanting their kids to attend your daycare.
You can have a special app for your daycare. Send updates and photos of your kids through this app all day long.
Having an app positions you an elite school with elite conveniences.
It also is a great marketing opportunity because now parents will show the images of their kids to their friends and coworkers which will get you free publicity.
You can hire a cheap coder to develop one for you or take advantage of day school apps already out there.
Himama.com is one app that you can use.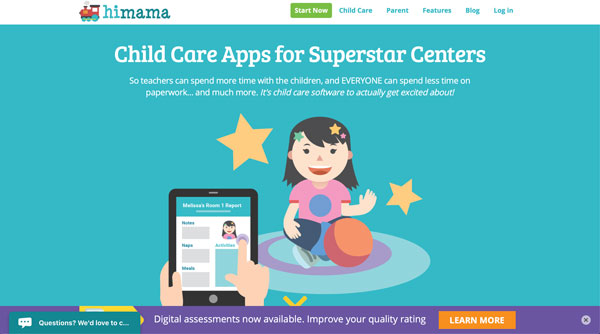 There are many ready made apps already available. Just look for them in Google.
If possible have extra play space for kids to play.
Try to have longer hours if your plan and budget allows you. The more free time you can give to parents, the more they will want their child to go to you.
I know daycare's where you can drop your kids as early as 7.30 in the morning and pick them up as late as 6.30 in the evening.
Some daycares have special services like dry cleaning, potty training, meals for takeout, field trips, Fri night babysitting.
These are all opportunities to make parents depend on you and make extra money.
Step 4: Build Sales Funnel (Offer A Week FREE Trial) Pay What You Want
Now you have your business plan, daycare coursework, and promotional elements.
It is time to take all these elements and build a sales funnel (a sales-driven website).
When you are a new daycare, you won't have parents bring their kids over right away.
They need to know more about you, they need to know how good you are and if what is the big benefit for them to switch their current daycare.
So initially you need to give them some incentives to try you out and get them hooked.
However, you have to do it in a manner where you don't come across as desperate.
You can have a weekend FREE session where the kids can test your daycare and you can test if the kids are the right fit for your daycare.
The weekend idea works because then parents don't have to take their kids out of their regular daycare.
They often want to do something on the weekend and this tempts them to try your daycare.
You can make them install the app and send them updates the entire day. Let them see how happy their kids are.
You can make it a mandatory 30-minute interview session with your parents at the beginning and end of the day.
This will be your opportunity to tempt them to get admissions at your daycare.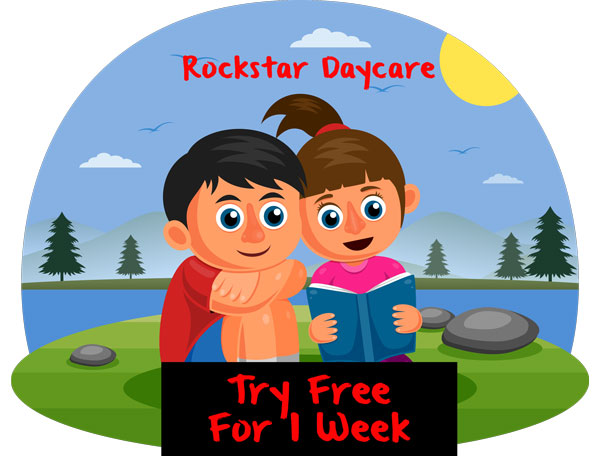 You can also offer 1-week FREE trial for parents to test your daycare and for you to test if they are the right fit for your school.
If a parent leaves a kid with you for a week, there is a good chance that they will continue with you.
If you are tight on funds and cannot afford a free daycare trial then you can offer something called Pay What You Want.
In this marketing plan, you do not charge a fee but leave it up to the parents to pay whatever they want.
Majority of the time parents will pay you a decent rate and most likely this special offer will make them join your daycare as a gratitude for your generosity.
You can even offer FREE weekend babysitting.
Once the parents see that your kids are happy with you and that your daycare provides extra services, odds are that they will enroll with your daycare.
This is exactly what we need to do at this stage. Build our website with our special offers then send parents to these pages and get them to sign up.
Step 5: Get Reviews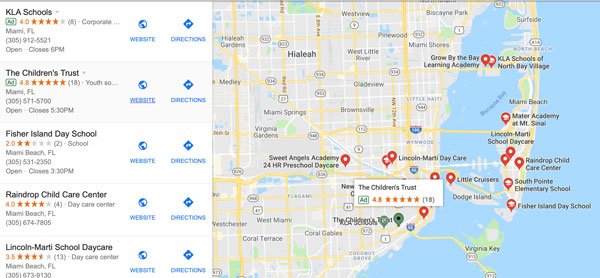 One of the most important thing that will make parents want to send their kids to your daycare is what others have to say about it.
You must gather as many good reviews from parents as you can.
If you have existing students ask their parents to write you a review on Google or just send you email or text messages as reviews.
When possible ask them to give you a video testimonial. Video testimonials are way powerful and believable.
When you offer a FREE trial or Pay What You Want Offer, ask parents to write you a review at the end.
When you do something nice for them, they will write you a good review to reciprocate your generosity.
The more reviews you will have the easier it will be to get new kids.
Step 6: Run Ads
By this stage you have everything. You have a business plan, you have your sales offer and you have reviews.
Now it is time to run ads on social media and get new traffics.
I would create ads for the 1-week free trial or pay what you want for a day or free weekend trial or even weekend babysitting offer
I will target these ads to parents in your local community.
Make sure these ads come across as elite and not cheap or begging. Your words and images will make all the difference.
You can hire a designer on Fiverr or Upwork.
There are several websites that sell ready made advertisement templates: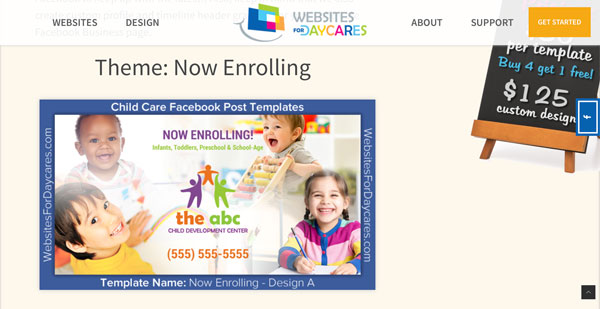 https://www.websitesfordaycares.com
I recommend that you hire an expert to run ads online.
Especially if you are someone with little to no marketing experience. You can get stuck at this level for a long time.
This will cost you a little but an expert can test and find a profitable campaigns way faster than you can.
Step 7: Press Release Campaign
Next, create a pr campaign.
You can hire a PR writer and submitter on Fiverr for cheap.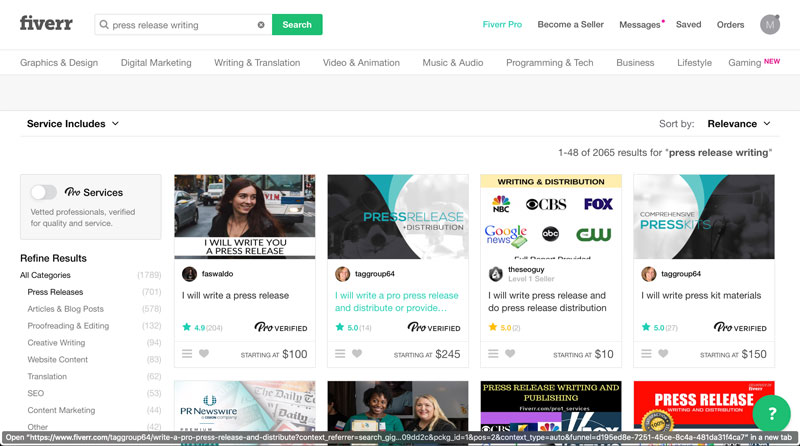 Have them create a PR campaign that focuses on your unique CDC (child development course).
Talk about results your kids are getting and how satisfied the parents of your kids are.
The idea is to establish your daycare and your course as something exceptional.
This will help us create more income opportunities.
Once you get press coverage on your course and daycare you can now create an online course to certify other people who want to open a daycare.
You can also start giving franchise and license to use your name worldwide.
Many third world countries, love to be associated with US schools and colleges because it adds to their prestige and gets them business.
STEP 8: Create Child Development Certification Course
You have worked hard to create your brand.
It is time to monetize and make some big money from it.
You should take your curriculum and turn that into an online certification program.
Offer the course to people who want to start a daycare.
Teach them your curriculum and certify that they have the expertise to run a daycare.
Online study courses are a big money-making business where courses worth billion dollars are sold every year.
The good thing about building an online course is that you already have a course so it does not take you any work and now you can keep making money over and over without putting in much work.
You can use Free WordPress LMS (Learning Management Systems) to build an online course for FREE.
You can go to Fiverr or Upwork and have someone build an online course for you for less than $100.
Then run ads on social media to sell this course and make extra money.
STEP 9: Franchise World Wide
The final step is to start giving the Franchise for your brand worldwide.
Many third world countries, love to be associated with US schools and colleges because it adds to their prestige and gets them business.
You can charge them hefty licensing fees upfront and then charge annual fees or fees per enrollment regularly.
This will turn your daycare program into a worldwide business and now you will have big passive income coming to you regularly.
Get A Step-By-Step Marketing And Advertising Plan To Get Enrollment And Grow Your Daycare Business
Your Information Is Safe And Private! We Do Not Spam Or Share Your Information!